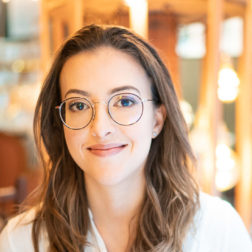 I am an individual and relationship therapist licensed as a Psychologist in Brazil, in France, and in The Netherlands. Leading in my work as a therapist is evidence-based therapy. I regularly visit scientific conferences to be aware of the newest developments so that I can best help you. I have been working with individuals, couples, and families since 2008. I am experienced as a therapist in Brazil, the Netherlands, and now in France, where I currently live. I have worked with adult clients during in-person and online sessions with clients worldwide. I focus with my clients on  issues related to life transitions, relationship difficulties, cultural adaptation, stress, insecurities, depression, and anxiety. You can work with me in Portuguese and English.
I was born, raised and lived most of my life in São Paulo (Brazil) and I have been living in France for several years. I have also had the opportunity to live and train in The Netherlands. The experience of living abroad made me sensitive to the specific needs and longings we have when living far away from our home. Because I regularly travel for scientific conferences and to go back to my native country, I understand the expat life.
My training has centered around Systemic, Cognitive-Behavioral (CBT), and Emotionally Focused Therapy (EFT). Most of my current work revolves around CBT for individual therapy and EFT for individual and couples therapy.  After understanding my clients' problems and expectations, I discuss which approach seems to be more helpful for their situation with them. 
As noted, evidence-based therapy is leading in who I am as a therapist to best help you. I am actively involved in going to scientific conferences, being trained by leading EFT therapists, and being up-to-date about the science of psychology. I remain curious to learn more and to grow in my profession as a therapist.
Education
Professional affiliations