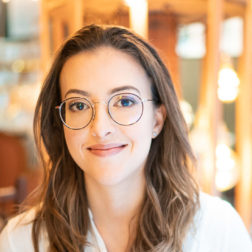 I am an individual and relationship therapist licensed as a Psychologist in Brazil and as a Basic Psychologist in The Netherlands. Leading in my work as a therapist is evidence-based therapy. I regularly visit scientific conferences to be aware of the newest developments so that I can best help you. I have been working with individuals, couples, and families since 2008. I am experienced as a therapist in Brazil, the Netherlands, and now in France, where I currently live. I have worked with adult clients during in-person and online sessions with clients worldwide. I focus with my clients on  issues related to life transitions, relationship difficulties, cultural adaptation, stress, insecurities, depression, and anxiety. You can work with me in Portuguese and English.
I was born, raised and lived most of my life in São Paulo (Brazil) and I have been living in France for several years. I have also had the opportunity to live and train in The Netherlands. The experience of living abroad made me sensitive to the specific needs and longings we have when living far away from our home. Because I regularly travel for scientific conferences and to go back to my native country, I understand the expat life.
My training has centered around Systemic, Cognitive-Behavioral (CBT), and Emotionally Focused Therapy (EFT). However, most of my current work revolves around EFT both for individual and couples therapy. The principles of EFT are strongly aligned with what I understand to be most important for our well-being: connecting with our emotions and needs as a path that clarifies what is necessary to achieve greater emotional balance, and security in our relationships. 
Education
Professional affiliations
Member of the International Centre for Excellence in Emotionally Focused Therapy (ICEEFT)
Associate Member of São Paulo Association for Family Therapy (APTF)
Member of Association for Psychological Science (APS)